Short description
Public Missiles Limited Quantum Leap II
Dia.: 3.0"
Height: See Below
Weight: See Below
MMT: 54mm Kwik-Switch
Chute: 48" & 30"
Payload: 12"
FinThickness: 0.06"
CertLevel: Level 1 and 2
Motors: H thru J

Secure payment system

Fast shipping!
When on stock we ship the same day if ordered before 16:00 Rocketmotors have special shipping!

Our return policy
PML Quantum Leap II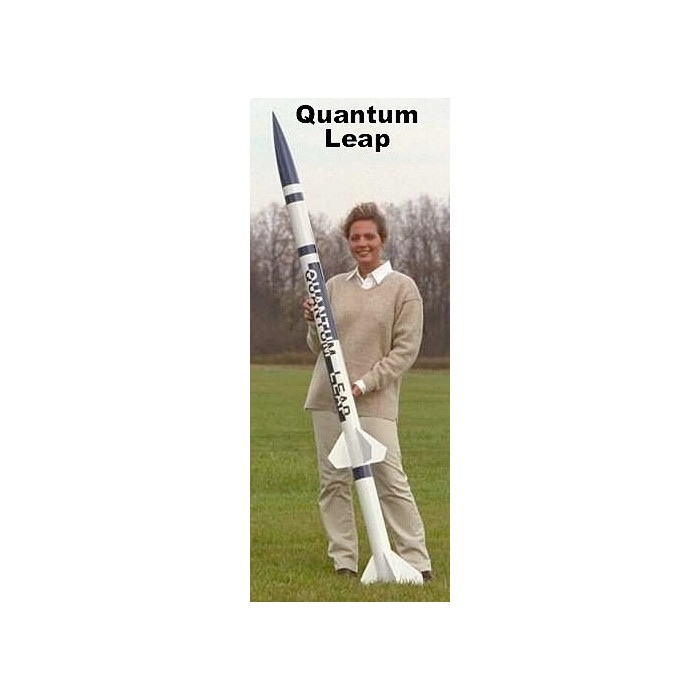  
Short description
Public Missiles Limited Quantum Leap II
Dia.: 3.0"
Height: See Below
Weight: See Below
MMT: 54mm Kwik-Switch
Chute: 48" & 30"
Payload: 12"
FinThickness: 0.06"
CertLevel: Level 1 and 2
Motors: H thru J

Secure payment system

Fast shipping!
When on stock we ship the same day if ordered before 16:00 Rocketmotors have special shipping!

Our return policy
PML`s "quantum mechanics" have continued to improve one of rocketry`s favorite two-stagers, the Quantum Leap.
The new Quantum Leap II, now with the new Interstage 3000 staging adapter system, is a completely modular two stage rocket. Once you assemble the four basic components, you can combine them to make any of five rocket combinations and can change to any configuration in minutes. The new Interstage 3000 system is much easier to prep and use than the previous interstage coupler design, and is identical in design to the IS3000 used in the Terrier booster stage for our MiniBBX. The IS3000 comes complete with timer mounts and remote safety switch.
| This 2-stage rocket kit is intended for the experienced HPR scratch builder intending to supply his/her own electronic parachute deployment system into the sustainer stage. We strongly urge you not to fly this kit without an electronic parachute deployment system installed into the sustainer stage. Failure to do so will allow the sustainer stage to fall to earth without recovery deployment if the sustainer motor fails to ignite. If you are unsure about designing and installing your own electronic parachute deployment system, consider buying the Quantum Leap 3000 kit, which contains the electronic deployment components (except altimeter) as standard. To purchase a Quantum Leap 3000 kit already equipped with the CPR3000 Dual-Deployment Recovery System, click here.
NOTE: The following chart lists configurations of this kit that may be flown as it is received stock from PML. However, your addition of an electronic deployment system may/will make some of these configurations unavailable, depending upon the design of your system.
Configuration
Components
Length
Weight
##
CP
Notes
A
1,3,5
49.25"
49 oz.
43"
Booster stage requires use of payload section for stability
B
1,2
49.25"
46 oz.
39.5"
C
1,3,2
61.25"
53 oz.
50.5"
D
1,2,4,5
75.75"
88 oz.
53.5"
Upper stage requires electronic ignition **
E
1,3,2,4,5
87.75"
95 oz.
65"
Upper stage requires electronic ignition **
COMPONENTS LIST AND NOTES

Nosecone
Upper (sustainer) stage
Payload section
Interstage coupler/staging timer housing
Booster stage

** PML AccuFire Timer recommended for upper stage ignition; see Electronics section in webstore. (Can also use Transolve ST-2B).
## Your weight may vary according to how much epoxy and paint you use when you build. Also does not include weight of staging timer (if required).
Interstage 3000 Coupler Detail
Both stages have...
Pre-slotted Quantum Tube airframe
G-10 fiberglass fins
"Kwik-Switch" motor mount
Piston ejection system
Nylon parachute
Also included...
12" payload section
Plastic nosecone
Interstage 3000 stage coupler w/electronics bay*
Explicit instructions
Click here to see a photo of the Quantum Leap under boost in 2-stage configuration!
*This rocket is intended for experienced flyers only! A good understanding of proper motor selection and staging techniques is mandatory when flying any multi-stage rocket.
No customer reviews for the moment.